Martina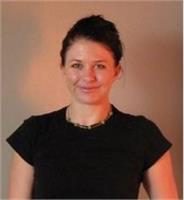 Martina recently moved from San Diego where she has run her own busy private practice for the last 8 years. Through her clinical experience Martina has treated a variety of conditions and general practitioner, with a special interest in women's health, musculo-skeletal conditions, pain and stress management, dermatology, digestive disorders, and immune health. Martina attended Pacific College of Oriental Medicine in San Diego, CA where she received a Masters Degree in Oriental Medicine and certification as a Massage Therapist. She has had internships with San Diego Hospice, Rady's Children's Hospital, and studied at The Chengdu University of Tradition Chinese Medicine in Chengdu, China. Throughout her experiences, both as a massage therapist and an acupuncturist, she has been dedicated in providing compassionate and integrative health care. Martina is a nationally certified Diplomat of Oriental Medicine and licensed by the California Board of Acupuncture.
Martina instructs the following:
Do you want totally strong abs, lean legs and a great body to show off? With total fit, you can experience cardio, core and a variety of strength training exercises and techniques. This class can challenge all fitness levels. There are modifications available for those new to fitness. If you're ready to find a new level of fitness, join us and Get Totally Fit!