Jim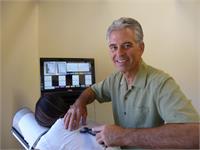 Dr. Jim graduated from Palmer Chiropractic College in 1986. He then went on to study sports injuries and after two additional years he received his certification as a Sports Injury Physician. Other areas of study include the treatment and management of the "whiplash" injury, x-ray analysis, physiotherapy, nutrition and supplementation...
Dr. Jim established his practice in Los Gatos, California and treated 1000's of patients over 17 years. He worked closely with orthopedic surgeons in the recovery and rehabilitation of joint injuries. Dr. Jim has had the privilege of working with professional, Olympic and amateur athletes.
The thought of moving and starting over was a little overwhelming, but exhilarating at the same time. In 2002, decisions were made quickly and before Dr. Jim and his family could digest what happened they were living in Lake of the Pines. The BEST decision ever! It was monumental because the transition set the stage for the most advanced technology to penetrate the chiropractic profession and find its way to Bear River Chiropractic. Come meet Dr. Jim and experience the Ultralign approach to healthful living.
Jim instructs the following:
This is an introduction to Dynamic Spinal Stick Stretching. Dynamic Spinal Stick Stretching is for everyone young and old. It is an innovative, systematic and effective approach to fitness and body awareness through warm ups, stretching and toning while using a 4 foot or 6 foot rattan pole as a partner or tool. It is a gentle blend of yoga, tai chi, and martial arts with its purpose to learn new motor skills. Dynamic Spinal Stick Stretching improves posture, reduces stress, energizes, helps prevent injuries, enhances flexibility, improves coordination, strength and endurance. The focus is on postural alignment, spinal stabilization, and overall range of motion with the use of a rattan pole. Through innovative movements which are performed at various speeds and in various directions, with mindful repetition, correct form is learned and good mechanical movement patterns are established.