Cyndie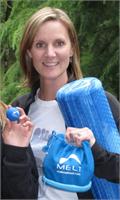 Cyndie Vasquez, D.C. graduated from Pepperdine University with a B.S in Sports Medicine and was active in the Athletic Training Department, as well as Research in Biomechanics. She went on to graduate from Palmer College of Chiropractic-West, and started a practice in Boulder, CO in 1996.
Aware of the link between fitness, yoga, massage and pain management, Cyndie's primary goal is to empower people to take charge of their bodies through self-care, movement and healthy choices. She teaches accessible, self-treatment techniques that address the cause of pain and dysfunction, without perpetuating imbalances. "With basic knowledge of anatomy and movement, we can all live longer and better in our bodies." Cyndie enjoys living on Lake Combie with her husband, 2 kids and 3 dogs.
Cyndie is currently not instructing any classes.