David M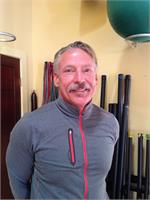 I have been a certified Spinning instructor for three years, training and cert.through Mad Dogg Athletics,Inc. I also have been certified recently as fitness Instructor & Personal Trainer through Fitour Certification. I as well Cary the necessary CPR
ASHI-approved certification. I very much enjoy helping people grow and achieve there Goals and recognize they can do so much more when shown how.
David M instructs the following:
High Intensity Training-

This class's focus is on muscle and strength building. It also involves Plyometric work for cardio. All levels of fitness are welcome. If you're ready for results, come join us in H.I.T.




Group cycling classes for all fitness levels. You control the resistance as we simulate a challenging ride, with great music. Sign-ups are available at the front desk no more than 48 hours prior to class. A towel and water bottle are required & heart rate monitors are suggested.




Do you want totally strong abs, lean legs and a great body to show off? With total fit, you can experience cardio, core and a variety of strength training exercises and techniques. This class can challenge all fitness levels. There are modifications available for those new to fitness. If you're ready to find a new level of fitness, join us and Get Totally Fit!